Attractions
Rocky Mountaineer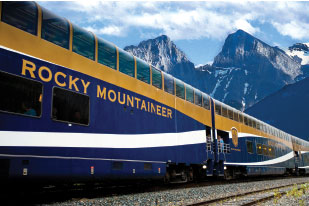 Rocky Mountaineer offers over 45 Canadian vacation packages and four unique rail routes, rich in history and natural wonders, through British Columbia and Alberta.
This world-renowned, luxurious train travels by daylight through the wild beauty of Canada's West and is the best way to experience the majestic Canadian Rockies.
Since its inception in 1990, the company has grown to become the largest privately owned passenger rail service in North America and has welcomed more than one and a half million guests onboard from around the world.
In 2011, Rocky Mountaineer received its seventh World Travel Award and has also been recognized by National Geographic as one of the "World's Greatest Trips" and recently, by Condé Nast Traveler as one of the "Top 5 Trains in the World."
Stanley Park
Vancouver's oldest, largest, and most popular park is one of the city's main tourist attractions. Stanley Park is recognized as one of the great urban parks of the world, spanning 400 hectare near Vancouver's downtown core.
Vancouver Aquarium
As Canada's largest aquarium, the Vancouver Aquarium connects hundreds of thousands of Aquarium visitors with the natural world. With over 50,000 animals and unique opportunities to come up close with some of the world's most elusive creatures, every visit is an unforgettable one.
Beaches
Which way to the beach? Well, in Vancouver you can find one everywhere you turn. Whether you're looking for a stretch of sand to spread out and relax with a good book, a place to play in the Ocean, or an outdoor court to spike a volleyball, Vancouver's got it.
Grouse Mountain
Just 15 minutes from downtown, Vancouver's Grouse Mountain offers the perfect destination for a truly rewarding and memorable experience. With a variety of cultural, educational and outdoor adventures to choose from, it's an experience for the whole family.
Vancouver Art Gallery
The Vancouver Art Gallery's collection of about 10,000 works of art represents the most comprehensive resource for visual culture in British Columbia. It is a principal repository of works produced in this region, as well as related works by other Canadian and international artists.
Maritime Museum
Discover the rich maritime history and traditions of the Pacific Coast. Every day the Vancouver Maritime Museum charts a different course of adventure for all. Come aboard for fun and knowledge.
Capilano Suspension Bridge
Follow in the footsteps of the millions who have crossed Capilano Suspension Bridge since 1889! The 450 ft long, 230 ft high bridge, originally constructed of hemp rope and cedar planks attached to Douglas-firs, is today made with pre-stressed wire cable attached to 118 ton anchors.
Burnaby Village Museum
The Burnaby Village Museum & Carousel is a reconstructed 1920's village. It is both a themed heritage attraction and a professional museum containing 31 full-scale buildings with an outdoor collection and themed exhibit areas.
Whistler Rocky Mountaineer Train
Rocky Mountaineer offers over 45 unique rail journeys into the Canadian Rockies. This luxurious train travels by daylight through the beauty of Canada's West and is the best way to experience the majestic glaciers, foaming waterfalls and towering mountain peaks.
---
Culture
The city of Vancouver is renowned for its incomparable natural beauty and cultural diversity.
For thousands of years the Coast Salish people have called the area now known as Vancouver home. Their history and cultural traditions, upholding a deep respect for nature and humanity, are tightly woven into the city's cultural fabric.
In 1792, Captain George Vancouver explored the Burrard Inlet, today the shores of the city, and wrote of the area's "innumerable pleasing landscapes." But it was the discovery of gold that drew substantial European settlements to the region.
In 1827, the Hudson's Bay Company set up a trading post on the Fraser River, east of present-day Vancouver. By 1858, the gold rush on the Fraser River brought thousands of prospectors to the area. The influx of pioneers would continue.
Perhaps the city's best known pioneer is Vancouver legend "Gassy Jack" Deighton. He established the area's first saloon in 1867 on the south shore of the Burrard Inlet; the area became known as Gastown. Nearby, legendary Stanley Park was officially opened in 1888, named for Lord Stanley, former Governor General of Canada.
Transportation and Celebration
Important developments like the Canadian Pacific Railway in the 1880s greatly boosted the growing area, and meant a substantial influx of Chinese workers. It was the promise of this coast-to-coast connection that led the province into Confederation in 1871. When the railway line was near completion in 1886, the town of Granville was incorporated as the City of Vancouver. Its position as a transportation hub ensured its dominant role in the province's economic and social life.
A century later the city staged a 100th birthday party of international proportions, hosting the Expo '86 World Exposition. For an urban centre whose growth has been directly linked to developments in transportation, the event's transportation theme was particularly poignant.
Today, Vancouver's cosmopolitan appeal can be attributed to its international population of citizens; there are Aboriginal populations as well as British descendants, Chinese, Japanese, German, Indo-Pakistani, French, Italian, Dutch, Scandinavian, Ukrainian, Filipino and Greek, among other diverse nationalities.
In February and March 2010, Vancouver was the host city for the Olympic and Paralympic Winter Games.
As a world-class city, Vancouver continues to draw the world's great nations together in a celebration of human spirit and achievement.
---
Neighbourhoods
One of Vancouver's best attractions is its rich mosaic of neighbourhoods. Ethnically and culturally diverse, each Vancouver neighbourhood has a distinct, yet always welcoming, personality.
Sample dim sum and authentic Asian cuisine in Chinatown and immerse yourself in Chinese culture. Wander the bustling cosmopolitan shops on Robson Street, a shoppers mecca.
Relax on the patio at a trendy Yaletown micro-brewery. Admire historic buildings and saunter the cobblestone streets of Gastown, a National Historic Site, or marvel at the array of market vendors at Granville Island.
Chinatown
Vancouver has been home to a vibrant Chinese community since the mid-19th century. Today, Vancouver's Chinatown is one of the largest in North America and provides an authentic Asian encounter complete with unique architecture, exotic culinary aromas and an array of imported goods.
No visit to Chinatown is complete without a trip to the Dr. Sun Yat-Sen Classical Chinese Garden. A tranquil Ming Dynasty-style garden, it is the first authentic classical Chinese garden to have been built outside of China.
The Chinese Cultural Centre Museum and Archives presents an impressive collection of Chinese memorabilia. It also houses the Chinese Canadian Military Museum.
Make sure to see the Sam Kee Building. At just 1.5m/6ft wide, it's the world's most narrow office building - and easy to miss!
On weekend evenings from late May through to September, thousands of visitors pour into the closed streets for the popular Chinatown Night Market. The Asian-style flea market offers a host of great finds.
Chinatown can be found just east of downtown Vancouver.
Robson Street
Energetic Robson Street is the place to see and be seen in Vancouver, and boasts more than 200 shops, cafés and services.
Spend a day on the strip – try on outfits at trend-setting fashion boutiques or sip a latté while people-watching from a sidewalk café. With a weekend average of some 80,000 streetgoers, there are plenty of people to watch!
Prefer less jostling among crowds? Head to the Vancouver Art Gallery. Housed in a former early-20th-century courthouse, the VAG is a haven for art lovers.
Finish the day with dinner at one of Robson Street's many fine restaurants.
Robson Street runs east-west through downtown Vancouver, from Yaletown to the West End. Parking on Robson Street can be a challenge because of its popularity; there are several parkades located within easy walking distance.
Yaletown
Once a gritty area of loading bays and brick warehouses, Yaletown has undergone a facelift and is now a stylish mix of the fashion-savvy, dot-commers and celebrities. It is the neighbourhood of choice for urban trendsetters, both as a nighttime destination and a New-York-loft-like place to call home. Yaletown's streets are surrounded by condominium buildings towering over renovated brick-warehouse lofts.
Some of the city's hippest destinations are here: high-end galleries, chic fashion and furnishings boutiques. Swanky restaurants, brew pubs, trendy salons and even movie sets also share its narrow streets.
Yaletown sits at the southeastern tip of downtown Vancouver; parkades and meter parking are available.
Gastown
The historic district of Gastown is Vancouver's oldest neighbourhood. Still as colourful as ever, it is a favourite destination of tourists.
A daytime stroll down Gastown's cobblestone streets reveals artist studios, designers' shops, First Nations' galleries and antique stores in refurbished heritage buildings. Gastown is also home to the world's first steam-powered clock, now one of the city's most photographed attractions.
Gastown's structures share a common Late Victorian and Edwardian look that harkens back to the region's development in the late 19th century. Check out the old Canadian Pacific Railway Station of 1912 for a tangible example of the decorative tastes of the time.
Gastown is within easy walking distance of downtown Vancouver.
Granville Island
Hop on a water taxi, salute the view of the downtown skyline and get ready to spend an enjoyable day at Granville Island.
An eclectic mix of shops, boutiques and galleries, Granville Island is perhaps most famous for its large and bustling Public Market, where local food vendors and artisans peddle their wares.
Browse the charming shops of the Net Loft, where retailers offer everything from exotic stationary to beads of every shape and kind, funky hats, First Nations gifts, books and locally-made fashions.
The Maritime Market clusters together retailers who specialize in all things ocean related: boat and kayak rentals, marine souvenirs and of course, seafood. There are fishing charters available too.
Kids adore the Kids Market. Here, independent sellers of atypical toys, books, games, clothing, candy and adventure offer a refreshing alternative to the usual.
Granville Island is also dotted with an array of arts-and-crafts studios and galleries dedicated to local and regional work.
Granville Island is located across from downtown Vancouver, under the Granville Bridge. Parking can be difficult to find; consider coming by foot, public transit, bike, taxi or water taxi.
---
Hotel
The Westin Bayshore, Vancouver hotel offers guests the best of both worlds: the activities and cultural events of Vancouver, as well as a relaxing resort experience. This unique duality is just one of the features that allowed The Westin Bayshore, Vancouver to be named to Condé Nast Traveler's Gold List. Enjoy views of the coastline, distant mountains, and Stanley Park from this beautiful downtown Vancouver hotel.
Connect with nature at The Westin Bayshore. Reinvigorate with an ocean-side jog or bicycle ride in Stanley Park. Unwind and enjoy picturesque view, or catch up on work in the lobby, restaurants and bar with complimentary WiFi. Then energize at the end of your day in our WestinWORKOUT® fitness centre and our indoor and outdoor pools.
The Westin Bayshore, Vancouver is proud to be awarded the 4 Green Key Rating from The Hotel Association of Canada for national industry leadership and commitment to the environment.
The Westin Bayshore group rate for delegates attending the 22nd NAMC is $189.00 single/double standard room. This rate is offered 3 days pre and post conference, based on availability. Other rooms and suites may be available upon request. Complementary high speed internet is included in guestrooms. Guests can take advantage of a 15% discount on select services at Vida Spa during the Conference.